The Show
My Life with Pablo Neruda - a pocket opera-cabaret in four acts written for 2 singers, 2 actors, and 4 on-stage musicians is a tempestuous love story, an intensely political story, the story of the remarkable spiritual journey of a woman, Matilde Urrutia, third wife of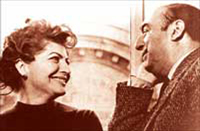 the poet Pablo Neruda. Matilde, interested only in her home and garden. Matilde, champion of the "disappeared ones" under the reign of the murderous Chilean dictator Augusto Pinochet. Matilde, subject of some of the greatest love poems ever written.
Based entirely on the poetry of Pablo Neruda and on material from the memoirs of Matilde Urrutia, My Life with Pablo Neruda tells one of the great love stories of the past century.
The libretto exists in both Spanish and English. Therefore, My Life with Pablo Neruda (Mi vida junto a Pablo Neruda) may be performed either in Spanish or in English or in a combination of both. The staging may be made simple enough to work in a variety of venues, from fully equipped theaters to spaces meant for chamber music to cabaret spaces. The show is meant to tour.
The Music
The music is performed by a quasi "tango band" (violin, clarinet, synthesizer and cello). In Neruda's youth the popular music of all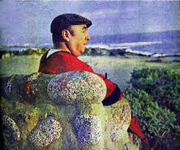 South America was tango. The music occasionally refers to this genre. A striking number in the show is "The Widowers Tango", a number which may include dancers. The Cueca, Chile's national dance, is also included in the show.


The Show's History - Put Pablo on Off-Off-Broadway
Pocket Opera-Cabaret is a concept developed by Ray Luedeke. It integrates theater with elements of opera and chamber music and cabaret. My Life with Pablo Neruda received grants from The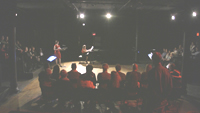 Ontario Arts Council, grants which funded two workshops in Niagara-on-the-Lake in Canada. From these 2 workshops a sound recording was made and a video. As well, in May of 2013, Voice Afire Pocket Opera and Cabaret produced Viva Pablo Neruda, a show with excerpts from My Life with Pablo Neruda. This was performed at the Flamboyán Theater in New York City and received rave reviews. This was part of a Kickstarter campaign in 2013 to "put Pablo on Off-Off-Broadway" for one month. In 2015 Voice Afire will be reviving this campaign. Please contact Voice Afire if you are interested in contributing.