The Show
Saturday March 10, 2018 at 5:00 pm
The National Opera Center, 330 7th Ave NYC
bet 28 & 29 : Tickets
and
Sunday March 11, 2018 at 3:00 pm
Symphony Space, 2537 Broadway NYC
at W 95th St: Tickets
My Life with Pablo Neruda - a pocket opera-cabaret in four acts written for 2 singers, 2 actors, and 4 on-stage musicians is a tempestuous love story, an intensely political story, the story of the remarkable spiritual journey of a woman, Matilde Urrutia, third wife of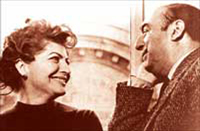 the poet Pablo Neruda. Matilde, interested only in her home and garden. Matilde, champion of the "disappeared ones" under the reign of the murderous Chilean dictator Augusto Pinochet. Matilde, subject of some of the greatest love poems ever written.
Based entirely on the poetry of Pablo Neruda and on material from the memoirs of Matilde Urrutia, My Life with Pablo Neruda tells one of the great love stories of the past century.
The Music
The original music by Ray Luedeke is performed by a quasi "tango band" (violin, clarinet, synthesizer and cello). In Neruda's youth the popular music of all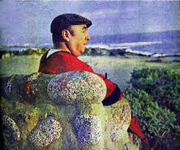 South America was tango. The music occasionally refers to this genre. A striking number in the show is "The Widowers Tango".The Cueca, Chile's national dance, is also included in the show, as well
as Cuban rumba, and Brazilian samba.


The Cast
Daniela Benitez is a Chilean actress and singer. She graduated in 2008 from Pontificia Universidad Católica de Chile. In 2014 she moved to New York to study Musical Theater at the American Musical and Dramatic Academy. After graduating she made her New York debut

as a lead in the Off Broadway production "Green Card a New Musical". Her performance received excellent revues from different newspapers: "The unmistakable breakout performance by Daniela Benitez as Mia is truly remarkable"… "she electrified the crowd with her voice".
Other off Broadway credits include: Inez in Mornings of April and May National Tour, Luz in Red Immersive Experience and Rosita in Café Playa Moon.
In Chile Daniela had the opportunity to perform in the most important theaters of the country: Teatro Municipal de las Condes, Teatro Universidad Católica, Centro Cultural Gabriela Mistral and National Stadium of Chile. She has studied and worked with recognized Chilean directors including José Luis Vidal and Guillermo Calderón. Her credits from Chile include: Anya in The Cherry Orchard, Tankayllú in Tirana the Musical, Lucy in Pains of Youth and Velma Kelly in Broadway in Concert. https://www.facebook.com/DanielaBenitezArtist/

Margaret O'Connell enjoys a versatile career in opera, contemporary music, musical theatre, oratorio, and recording. New

York audiences saw Margaret portray a "fiercely committed" Older Alyce in an acclaimed production of Tom Cipullo's Glory Denied as part of NY OperaFest 2017. She made her Carnegie debut with Leon Botstein and the American Symphony Orchestra as Ein großes Mädchen in Strauss' Feuersnot. The following summer she sang with Maestro Botstein at the Bard Festival as Camilla in Schubert's Die Verschworenen. Renowned Greek-American composer Dinos Constantinides invited her to debut at Weill Hall in the New York premiere of his Oracle at Delphi and Listenings and Silences. Ms. O'Connell made her Berlin debut as Giulietta in Les contes d'Hoffmann with two days' notice. She has been invited to present recitals in Berlin with Lithuanian pianist Raminta Lampsatis. http://www.mezzomargaret.com
Michael Maricondi (BFA in Theater Performance (NYU/Tisch), Masters' Equivalent (Acting International)) hails from Hamden, CT.

He lived, performed, and directed for 6 years in Paris, France. In the States, Michael has performed with theatres such as The Transport Group, New Jersey Repertory Theatre, and Long Wharf Theatre. He was the lead in several films shown at the Cannes Film Festival. Michael is also the founder and artistic director of Trust Your Gut Productions, which produces original, didactic musicals to help educate our nation's youth on social issues. Love to Mom, Dad, Robin, and Dana.
Since completing graduate studies in vocal performance and pedagogy at the University of Iowa, tenor John Des Marais has

been performing in the New York City area as a soloist and ensemble singer with some of the area's finest vocal ensembles, including Musica Sacra, Bachworks, and the New York Virtuoso Singers, in venues that include Carnegie Hall, Lincoln Center, and the Brooklyn Academy of Music, under conductors including James Levine, Sir Charles Mackerras, and Robert Spano. Among the opera roles he has performed are Roméo in Gounod's Roméo et Juliette and Tamino in Mozart's The Magic Flute. As a recitalist, he has given performances of such works as Britten's Winter Words, Schumann's Dichterliebe, Fauré's La Bonne Chanson, and, most recently, Mélodies of Reynaldo Hahn. A soloist and cantor at Saint Patrick's Cathedral since 2001, he has sung solo roles in numerous concert performances including Franck's Les Sept Paroles du Christ sur la Croix and Mozart's Great Mass in C minor, and has served as cantor for several nationally televised masses, including the Papal Mass celebrated by Pope Benedict XVI at Yankee Stadium and several Christmas Eve Midnight Masses. He has been recorded as a soloist on the JAV and Urban Chant labels, and has sung for a number of major motion pictures, including Noah and Zoolander 2.
Geraldine Anello. Music Director and keyboard, born and raised in France, ia now based in New York. She has conducted on Broadway at Kinky

Boots, and played in the orchestras of Broadway's School of Rock, Bronx Tale, Aladdin, Kinky Boots and On the Town, as well as for The Radio City Spring Spectacular; and played for actors' rehearsals for Broadway's Matilda, School of Rock, Kinky Boots, Finding Neverland, and An American in Paris.
Off-Broadway, she has piano/conducted The Fantasticks, played in the orchestra of Trip of Love, and played rehearsals for Natasha, Pierre and the Great Comet of 1812. As a music director and conductor, she most recently led the benefit concert Double Standards at New York's renown venue Town Hall, organized and hosted by Laura Bell Bundy and featuring stars such as Sara Bareilles, Ingrid Michaelson, Rosie O'Donnell, Liz Callaway, Judy Khun, Lena Hall and Eden Espinosa.A champion of new works, she has music directed the New York premiere of Mr. Chickee's Funny Money written by Motown songwriter legend Robert Dozier, Chick Flick the Musical, the world premieres of A Wonderful Noise, Swiss Family Robinson, the reading of By Wing and By Wheel directed by House of Card's Jayne Atkinson, and You Will Die Alone. https://geraldineanello.com/home/

Eric Grossman, violin: praised in The New York Times as a "brilliant soloist," violinist Eric Grossman is a versatile performer. From collaborations with Lowell Liebermann to concerto

appearances in many parts of the world, Grossman has been hailed for his flawless technique, superb musicianship and commitment to a wide range of repertoire.
As a chamber musician, Mr. Grossman has collaborated with such noted artists as David Soyer, Seymour Lipkin, Philip Myers, and Sandra Rivers, among many others.
Recent engagements included his sixth concert tour of Korea where he played Brahms's Violin Concerto with the KBS Symphony Orchestra, a New York recital with pianist Sandra Rivers, his European recital debut at the Arco Festival in France, and, on two days' notice, a performance of the Tchaikovsky Violin Concerto with the Lima Symphony that was hailed by The Lima News as "astounding." http://faculty.cord.edu/rpeters/grossman/bio.html
Thomas Piercy, clarinet, is a critically acclaimed musician with orchestral, concerto, recital and chamber music appearances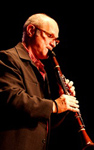 throughout the Americas, Europe and Asia. He has been described by The New York Times as "Brilliant...playing with refinement and flair…evoking a panache in the contemporary works." A versatile artist defying categorization – performing on the Emmy Award-winning Juno Baby CDs and DVDs; performing with pianist Earl Wild and Frederica von Stade; working with Leonard Bernstein; appearing in a KRS-ONE music video; playing hichiriki in Japan; recording with members of Maroon 5; premiering over 200 works composed for him; performing on Broadway and Off-Broadway, television, radio, and commercial recordings. Recordings for Albany, Capstone, DGI, Changing Tones, NJST, Tonada Records and more.
More information: www.thomaspiercy.com
Clara Abel began playing the cello when she was four. Her principal teachers include Liz Efroymson, William Grubb, and Joel Krosnick. A

native of Indianapolis, Clara has won top prizes in numerous competitions and has soloed with orchestras throughout the Midwest and New York City. In 2013/14, she toured nationally and internationally as principal cellist of Carnegie Hall's National Youth Orchestra. Since then, she has spent her summers at the Kneisel Hall Chamber Music Festival. Clara's love of chamber music led her to study with Joel Krosnick at The Juilliard School, where she is pursuing a Bachelor's Degree. Through programs like Kneisel Hall and Juilliard ChamberFest, she has received coachings and masterclasses with members of such ensembles as the Juilliard, Guarneri, Tokyo, and Orion Quartets, the Cleveland Orchestra, Chicago Symphony, New York Philharmonic, and Met Opera Orchestra. Clara performs regularly with the Abel String Quartet and the New York based Cosmopolitan Chamber Players, in addition to her chamber music engagements at school. Her quartet was chosen to participate in Juilliard's Honors Quartet Program. Upcoming engagements include quartet performances at Juilliard and Alice Tully Hall. Clara plays on a Caspar Strnad cello generously on loan from The Juilliard School.
Composer Ray Luedeke, born in New York City, attended the Eastman School of Music; the Vienna Academy of Music, on a

Fulbright Grant; Dartmouth College, where he studied with George Crumb; and Northwestern University, where he studied with Alan Stout. His output is extensive and varied. It runs the gamut from entertaining theater pieces for children, through a long list of sophisticated solo and chamber music to colorful, carefully crafted pieces for orchestra.
Ray Luedeke's music has been recognized by numerous grants and awards, among them prizes from the Manhattan Choral Ensemble, from the Percussive Arts Society, from the International Horn Society, and from Northwestern University. His Toronto Symphony contest winning orchestral Fanfare, opened Toronto's Thomson Hall and his overture The North Wind's Gift was performed throughout Europe in the 1991 tour of the Toronto Symphony. Six Canadian orchestras jointly commissioned Tales of the Netsilik for narrator and orchestra.
Recordings of his music include Shadow Music with the Louisville Orchestra, The Transparency of Time with pianist Andre LaPlante and the Winnipeg Symphony, The Moon in the Labyrinth with harpist Judy Loman and the Orford String Quartet, Brass Quintet with the New Mexico Brass Quintet, Circus Music with the Hannaford Street Silver Band, Ah, Matsushima! with violin/marimba duo Jacques and Michael Israelievitch, Fancies and Interludes VI with violinist Jacques Israelievitch and pianist Christina Petrowska Quilico, and Tango Dreams with world champion accordionist Alexander Sevastian. Quartetto Gelato has recorded Ray's brilliant arrangement of Maurice Ravel's Le Tombeau de Couperin and has performed it worldwide. http://www.voiceafire.com/Bio_and_Works.html
https://nl.wikipedia.org/wiki/Raymond_Luedeke
Voice Afire Opera-Cabaret:
In 2010 Ray left his position as Associate Principal Clarinet of the Toronto Symphony, held since 1981, and moved to New York City,

where he continues to compose and is Director of Voice Afire Opera-Cabaret, a production company specializing in new ways of combining theater with live music. New York productions include Butterfly's Trouble, a re-invention for 7 performers of Puccini's Madama Butterfly; The Art of Love for 2 pianos and actor; Kafka Shorts for string quartet and 2 actors; and In Kharms Way, a evening-length music theater piece, also for string quartet and 2 actors. Currently, Ray is working on an opera, A Doll's House, adapted from Ibsen's controversial play.
http://www.voiceafire.com