Close Embrace - A Tango Cabaret
This is a show that will inspire the audience to want to dance tango, and, since the show ends with an tango lesson (optional) and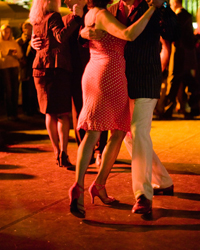 a "milonga", anyone willing and able can give it a try, or just watch and enjoy. While actor Colin Fox leads us through a narrative exploring the "heart and soul" of tango, the dance team El Abrazo performs in the "close embrace" style of tango to the music of our four piece "tango nuevo" band (violin, viola, cello, and accordion) and baritone Nelson Lohnes, performing music from the Golden Age of Tango (1935-55). The show also features a multi-media tango ballet with projected visuals and original musoc, Ray Luedeke's Tango Dreams.
Performers
Joseph Petric, Accordion

Concert accordionist Joseph Petric has been inspiring audiences worldwide since 1986. He continues to invent new ways for an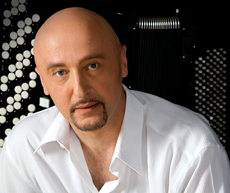 accordion to sound, breaking down academic perceptions as to what an accordionist is, and creating new markets and audiences worldwide. Nominated for a Juno and Prix Opus, the CBC National Radio Audition, and the BBC Radio 3 Audition laureate has appeared as a soloist at Seiji Ozawa Hall, at London's Southbank, Washington's Phillips Collection, the Franz Liszt Academy, the Kennedy Center, Manchester's Bridgewater Hall, and Paris' Agora Festival. Joseph commissioned Ray Luedeke's Tango Dreams as well
Ray's duo for accordion and clarinet, Serenity.
Alexander Sevastian, Accordion

is a winner of the prestigious Coupe Mondiale International Accordion Competition in 2007 in Washington, DC. He is also a
winner of three other competitions such as The Oslofjord (Norway 1998), Cup of the North (Russia 2000), Antony Galla-Rini (USA 2001). Since September 2002 Alexander has been playing with an internationally recognized group "Quartetto Gelato" www.quartettogelato.ca. He has been touring regularly in both the United States and Canada with this ensemble.
Alex has recorded Tango Dreams on the Analekta label.
Colin Fox, Actor

Aside from a busy acting career spanning 40 years, including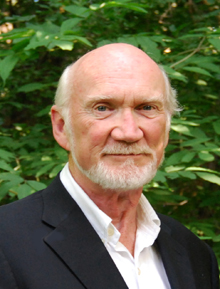 performances on Broadway and the festivals of Stratford and Shaw, feature films and television, Colin Fox made his concert debut in 1974 with Seiji Ozawa conducting the Boston Symphony in the title role of Berlioz's rarely performed monodram, Lélio. He has also appeared on the concert stage in a variety of musical settings, including perfomances with pianists James Anagnoson, Leslie Kinton, and Anton Kuerti. Colin has appeared with the Toronto Symphony performing Ray Luedeke's Tales of the Netsilik and has also performed Ray's The Art of Love for 2 pianos and actor and Butterfly's Trouble, Ray's re-invention of Puccini's Madama Butterfly for 7 performers.
Nelson Lohnes, Bass-Baritone

Hailing from Lunenberg, Nova Scotia, bass-baritone NelsonLohnes serves as organist and music director at Emmanuel United Church.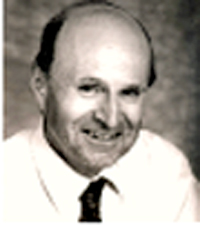 He occasionally teaches for the Dufferin Peel Roman Catholic School Board and Peel Board of Education. He holds his ARCT Gold Medal from the Royal Conservatory of Music; his Music Associate and Music Licentiate Diplomas from the Western Board of Music; and was a member of CBC's Hymn Sing during his university years. Solo work during career has included opera, musical and choral societies in England, the United States and Canada. Nelson is a long-time member of the Elmer Iseler Singers.
Testimonials
"As a publisher, I have travelled the world, but as a tango dancer I keep my eyes open for tango shows wherever I happen to be. I have been entranced by shows in such unlikely places as Edmonton, Bologna, Ellenville, New York and more traditional centres like London, Antwerp, Amsterdam and of course, Beunos Aires. But one of the most surprising was a wonderful program of dance, music, and tango history put on by Toronto musician Raymond Luedeke as part of the Shaw Festival, If it comes to your town, it is a show not to be missed!"
Mary Macchiusi
President, Pembroke Publishers
www.pembrokepublishers.com
"As Argentine Tango dancers ourselves, we enjoyed Ray's Voice Afire Productions immensely, particularly "Close Embrace". Ray is a very talented musician, writer, and narrator who presents a history of Tango that is fresh and surprising even to an audience familiar with it. His arrangements for string quartet were evocative and the dancers illustrated the music beautifully. The intimacy of the production was also refreshing. Ray can impart a lot about his topic without ever being pedantic. "Close Embrace" was a unique theatre experience."
Colleen Clancey & Dieter Hessel
Owners, Dance Café
www.dancecafe.ca
"One of our most successful concerts was performed here at Music Niagara in 2008 and 2007. Voice Afire Production's Close Embrace" generated great community excitement, and was sold out with audiences of all ages. The audience loved the music and dance demonstrations, and the participatory part even more. The dance teachers were excellent and fun to watch. And what a thrill for me to see the novice dancers delight in their capacity to tango! Percy Webb, a Niagara-on-the-Lake resident and friend of mine who attended this performance said, "I thought I had two left feet but was dancing like a pro after 20 minutes. Great fun!"
Virginia Mainprize
Executive Director
Music Niagara
Niagara International Chamber Music Festival
concerts@musicniagara.org