All aboard!
Grab the express train to
MOTUS O's family show -
CIRCUS TERRIFICO!
We first meet our three circus performers boarding the train to their next show. A case of vanishing tickets, however, thwarts their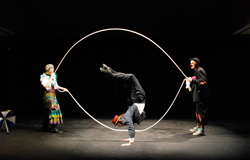 plans and strands them on the platform. It takes every trick in the book (and their suitcases!) to create an impromptu show to raise money for new tickets. But it works! And as the Train Conductor watches the antics of these 3 enigmatic clowns, he's drawn into their mayhem and magic, finally agreeing to be their new Ring Master!
With the Conductor's help, our performers arrive at the theatre just in time to present their magnificent CIRCUS TERRIFICO ~ hilariously unkempt micro-version interpretations of their favourite ballets, Sleeping Beauty, Swan Lake and The Nutcracker!
The styles of dance and physical elements in this show include ballet, physical theatre (character and story line driven movement), contact improvisation (a partnering technique practicing mutual support between dancers), circus tricks and jump roping
Motus O Dance Theatre
About the Company

It is strange to think how an American gymnast, an Australian sheep shearer and a Canadian figure skater could have their paths meet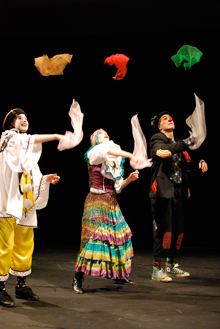 and eventually become Co-Artistic Directors of a dance theatre company in Canada. Yet, as it turns out, that diversity has become the essence of MOTUS O. The Artistic Directors of MOTUS O, Cynthia Croker, James Croker and Jack Langenhuizen, have all been trained in several artistic disciplines with decades of performing experience. Since their formation in 1990, MOTUS O has created several full-length productions for both family and adult audiences. The troupe continues to tour nationally and internationally bringing with them their innovative and highly visual works to both small and large communities alike.
About the Music
Sleeping Beauty, Swan Lake, and The Nitcracker, 3 Ballets by 19th Century Russian composer Pyotr Ilyich Tchaikovsky are at the core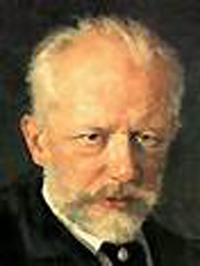 of the international ballet repertoire. Who is it that hasn't heard this
music and loved it, whether in concert or as a ballet or as part of a
Walt Disney film. Composer Ray Luedeke has re-orchestrated excerpts from Tchaikovsky's music (ever so slightly) for a moderately sized orchestra (the original has parts for 4 trumpets). And for Circus Terrifico he has added an orchestra version of his own Circus Music for brass band. In 2012 The Winnipeg Symphony Orchestra premiered Circus Terrifico in its live orchestra version. The show runs just under an hour and can be done with one rehearsal (better with two).
Motus O Dance Theatre also does Circus Music with recorded music.