This English language production uses just two singers, an actor, and four instrumentalists (clarinet, violin, cello and synthesizer) to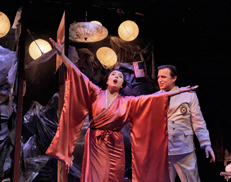 stunning effect. With minimal changes to Puccini's original text and music (some of Puccini's music has been exchanged for the spoken word), the poignant play that inspired the opera emerges, as powerful as ever. Madame Butterfly, by the great American playwright David Belasco, was a huge hit in 1900 when Puccini saw it in London. This story of a clash of cultures, of the doomed love affair between an American naval officer and his Japanese bride, moved audiences to tears and is as relevant now as it was then.
Butterfly's Trouble requires no scenery or special lighting. Or, it may be performed in a fully equipped theater. The four instrumentalists, performing an original orchestration by Ray Luedeke, sit as a group and have some some spoken text, while the two singers and the actor move around them. The production can be adapted to any space suitable for small ensembles.
In this adaptation of Puccini's opera, Madama Butterfly's son has returned as an adult to Japan. The time is 1945. As he stands on a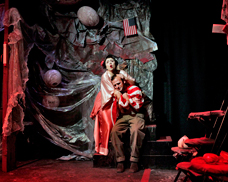 hill overlooking the atomic bomb devastated city of Nagasaki, a suicidal Trouble sees visions. He is drawn in, reliving his mother's tragic history and becoming various characters in her story.
Through the use of this theatrical device, Butterfly's Trouble becomes original music-theatre, not opera in concert. A complete performance, with intermission, runs just over two hours.
New York Cast

Julianne Park (Cho-Cho-San)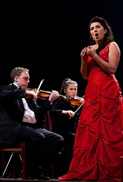 Julianne Park, a soprano from the foothills of Mt. Baker, Washington, has made appearances worldwide as an opera singer. In NYC, Ms. Park has performed the role of Mimi in La Boheme, Lucy Brown in Three Penny Opera (Princeton Festival), Barbarina in Le Nozze di Figaro, Tatiana (cover) Eugene Onegin,. Her Lincoln Center debut was in the role of Musetta (cover) in La Boheme in the 2008 Puccini Gala.  Ms. Park's European debut was as Mercy Lewis in, The Crucible, a show which the NY Times heralded, and a production which earned first prize in the televised European Mezzo International Competition in Hungary.
John Tedeschi (B. F. Pinkerton)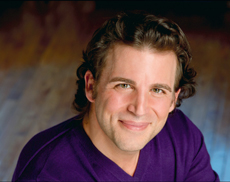 John is extremely pleased to be working on this innovative project. His credits include: Un Ballo in Maschera (Prelude to Performance), Aida (Center City Opera), La Traviata (Opera Theatre of Connecticut), Carmen (New Orleans Opera), The Mikado (Wichita Grand Opera), La Boheme (New Britain Symphony) and upcoming I Pagliacci (Sing Through Central). Mr. Tedeschi was a Professor of Voice at The Hartt School, Theatre Division and maintains an active New York City voice studio.
Hassan Nazari-Robati (Trouble)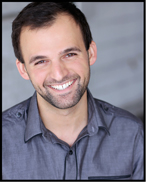 Hassan has appeared in a variety of productions from The King and I to The Merchant of Venice to West Side Story to Man and Superman. He studied music theater at Oklahoma City University and includes among his talents tap dancing and cello playing.


Jemmy Chen (Music Director and keyboard)

Jemmy Chen, Music Director and keyboard, has a wide and varied background in theatre and in music theatre. She served as music director at the Heritage Theatre Festival in 2010 and has conducted, acted, danced, or sung in a variety of productions, including The 25th Annual Putnam County Spelling Bee, My Dearest John, A Midsummer Night's Dream,and the Imaginary Invalid. A recent arrival to New York, she was previously a resident of Vancouver, where she sang with the Vancouver Chamber Choir, and of Virginia, where she was acting instructor at the University of Virginia.
Edmund Bagnell (violin)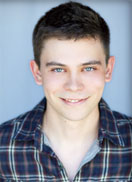 In the world of musical theatre, Edmund Bagnell, violinist, has proved himself a triple threat as violinist, actor, and chamber musician. Edmund acted and performed on violin as Tobias Ragg in the first national tour of Sweeney Todd, directed by John Doyle. Recent credits credits include Charlie Brown in You're a Good Man Charlie Brown, Tom Sawyer in Big River, Charlie in The Big Holiday Broadcast (written and directed by Joanna Gleason), and Oramel Howland in The Great Unknown (written by Jim Wann and Bill Hauptman).  Other shows include Carousel at Barington Stage Company, Band Geeks at Ars Nova NYC, and Little Shop of Horrors at the Edinburgh Fringe Festival in Scotland.  As a violinist, Edmund has performed at NYC's Town Hall and the Bitter End.
Jonathan Cohen (clarinet)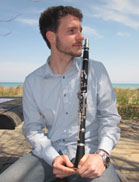 Originally from New Orleans, Clarinetist Jonathan Cohen began studying with his father, Steven Cohen, at the age of 9.  Performing frequently with his father over the years, Jonathan has also soloed with orchestras including the Louisiana Philharmonic Orchestra, the Cincinnati Symphony Youth Orchestra and the Interlochen Arts Academy Orchestra, among others.  Jonathan will also perform with the Minnesota Orchestra in an upcoming season as the first prize winner in their WAMSO Young Artists Competition. In addition to his success at numerous competitions across the country, Jonathan has been broadcast live on the popular NPR program "From the Top."  Shortly afterwards, he appeared on PBS with renowned mezzo-soprano Denyce Graves as part of a "From the Top" television special.
Bobbie Lee Crow III (cello)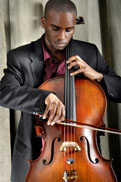 Bobbie, born in Houston, TX, is an aspiring cellist, composer, and arranger. A music graduate from The Ohio State University, he has performed as Principal and section cellist with Westerville Symphony Orchestra, Central Ohio Symphony, and Richmond County Orchestra. Bobbie has also been involved in the pit of several community and Off-Broadway musicals including Oliver!, Spring Awakening, Aquitaine Dialogues, and The Lost Boys, Or An Awfully Big Adventure. As a composer and arranger, he has collaborated with artists such as Suzy Sellout, Useless Beauty, Achordial Brio, and Grammy-nominated composer David Tolley, and currently manages iconiQ String Quartet. Bobbie directed and orchestrated his first cabaret - "Wishful Thinking" - in August 2011 to benefit The American Red Cross.
Heidi Lauren Duke, Director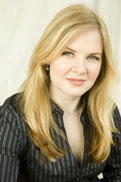 Lauren Duke has staged work in seven states and four countries, working with singers from all over the world. Most recently Ms. Duke received rave reviews for her new productions of Falstaff and Don Pasquale, the former at Boston Opera Collaborative and the latter at Hubbard Hall Opera House in upstate New York. In 2010, she premiered her new opera-theatre piece, Lorca en Nueva York, for a full house in Barcelona, Spain, and revived her critically acclaimed production of Hansel & Gretel in Times Square, NYC. At Opera Shorts @ Carnegie Hall, she was chosen to stage premieres of music
In New York, her recent productions of The Rape of Lucretia and l'enfant et les sortileges for Project Opera of Manhattan were met with overwhelming success.
Katherine Cardin
(cover for Cho-Cho-San)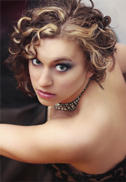 Katherine Cardin has quickly made a name for herself as a versatile singer-actress whose voice has the rare capability to shine equally in both operatic and musical theater repertoire. Most recently seen as Lucy in the world premiere of opera electronica One Hot Kitchen with the Metropolis Opera Project, Katherine is also currently in the Off-Broadway and national tour casts of Girls Night: The Musical.  She received rave reviews as Grazz Glate in the sci-fi musical Invader? I Hardly Know Her!, which played at the Soho Playhouse as part of the 2010 New York City Fringe Festival.
As a Resident Artist for Syracuse Opera, she covered Juliette (Roméo et Juliette) and performed Mimí in an outreach adaptation of La Bohème.  Signature roles include Lauretta (Gianni Schicchi), Despina (Cosí fan tutte), Anne (A Little Night Music), and Flora (The Turn of the Screw).