The Art of Love / Into the Labyrinth

"The performance was both stimulating and sensual - a stirring combination of words, music and images; I have never seen anything else like it."
Carol Lowrey
"Extraordinary melange of composition, narrative and videography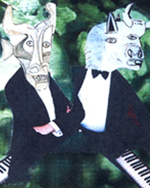 catapulting an ancient tale into the modern era with exceptionally strong performances by the pianists and actor."
Michael Pantalony

"...a thrilling concert of The Art of Love, Into the Labyrinth. Ray Luedeke's original, virtuosic score for two pianos...touched on a range of emotions from amusing to grim and Burney was in full command of his dramatic interpretation. The performance concept merged musical and dramatic arts perfectly.
Marina P. Kennedy, Woman Around Town NYC

2500 years ago , on the island of Crete, there was said to have been a Labyrinth: an underground maze of caves so complex and confusing that once in it there was no escape. What's more, at the center of the Labyrinth was a monster, a man eating creature, half bull and half man - the Minotaur.
The actor in The Art of Love (Into the Labyrinth) for 2 pianos, actor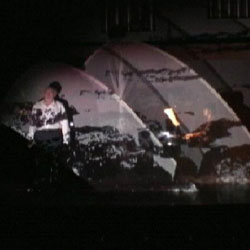 and optional video assumes a variety of roles and recounts the story in nine versions, each time from a different point of view. The text is adapted from the works of Ovid, the Roman poet (43 B.C. to 17 A.D.)
It includes sections from Metamorphosis, from Ibis, from the Tristia, and from The Art of Love, a work banned for the last 2000 years
3 Piano Duos
The Bergmann Piano Duo

The internationally famous Bergmann Piano Duo and actor Charles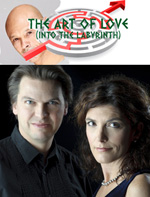 Murray present The Art of Love, Ray Luedeke's original, virtuosic score for two pianos with Ronald Hurwitz's riveting visuals, shot in Paris, and a text adapted from Ovid's infamous manual.
This show is by turn wildly funny and then dead serious, but always riveting and entertaining – all in the name of Love. Or is it Lust? With a first half featuring the music of Ligeti, Bolcom, and Bergmann.


The Labyrinth Duo

Jennifer Chu, currently on the faculty of the Juilliard School of
Music has toured throughout Spain as part of International Piano Festivals. She has garnered awards at the Steinway Society of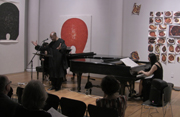 Boston competition and the Five Towns Music and Arts Competition, and performed at the Mozarteum Festival in Salzburg.
Hyo Kyoung
Beth Nam is the winner of numerous competitions and scholarship
awards, including the 5 Towns Music and Art Foundation
Young Musician Competition, the 15th Annual Young Pianist
Beethoven Competition in San Jose.
Veteran actor, singer Harry Burney has a resume that includes
performances of Porgy and Bess at the Houston Grand Opera
and the Orlando Opera, of the opera Boaz at Opera Ebony,
of his one man show Signature at the Kennedy Center

Anagnoson and Kinton

In addition to traditional recitals and concertos, the duo has commissioned numerous new compositions and has also expanded
the boundaries of piano-duo presentation when they performed Stravinsky's Rite of Spring to the innovative choreography of John Alleyne alongside Ballet BC. In addition, they premiered Into the Labyrinth – a multi-genre work by Ray Luedeke, featuring staging by Tom Diamond and narration by actor Colin Fox.